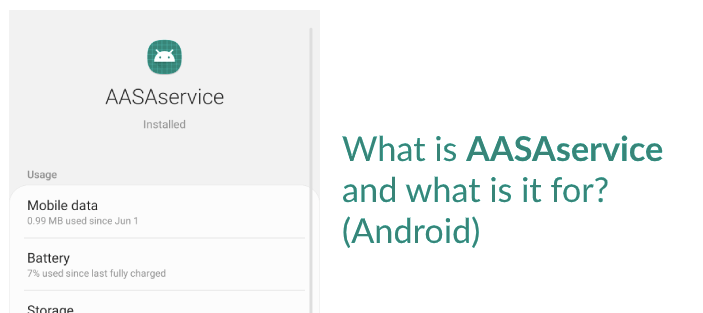 H
ave you found the AASAservice app running in the background without your knowledge? Are you confused about whether it's an important system application or not? Don't worry! In this article, we'll explain AASAservice, what is it used for, and can you disable/uninstall it.
Keep reading and get all your answers in this post!
Related Posts:
What is AASAservice App?
The AASAservice is a pre-installed app on Android devices. It is basically a Samsung service that can be used to install apps from Google Play Store. If you want to use apps that are unavailable in your country or need to save some data files on your device, then the AASAService Samsung app is just for you.
The app runs in the background and notifies the user of the security policies related to other apps such as configAPK. The Application Package(APK) name of the AASAservice is com.samsung.aasaservice and the package path of this app is /system/app/AASAservice/AASAservice.apk
Moreover, it creates copies of your system settings and app security policy settings and backs them up on Samsung servers using your Samsung account, making it easy for you to restore these settings if you hard reset your device or use a new Samsung device.
This newest Android app is important as it notifies users when their device's security policy has been violated. In addition, it enhances graphic display for a better user experience.
Overall, AASAservice is one of the important services required on your device to bring out the distinct Samsung Galaxy experience.
Is AASAservice a Virus/Spyware or It Is Safe?
Don't fret! AASA Service app is not at all a Virus or Spyware. It doesn't cause any kind of harm to your device and also doesn't spy on your data or sell your data to third parties.
The application is safe that creates and stores backups of your system settings and app security policies.
Yes, the AASAservice app has high CPU usage, high battery usage, and also consumes mobile data which is why it is considered Bloatware.
How to Disable the AASAservice App?
If you are one of those users who think the app is draining their power or consuming a data plan, you can follow the steps below to disable the app.
Go to the Settings option of your device.
Click on Applications.
Now tap on com.samsung.aasaservice app.
After that, click the "Disable" or "Force Stop" button.
Then clear Cache.
Can I Uninstall com.samsung.aasaservice?
Samsung AASA service is a pre-installed app on Android phones. The app cannot be uninstalled from the phone's app drawer. This system application works to keep your phone safe and secure. When you go to the Settings of your phone and check the AASAservice app, you will find that there is no uninstall button. Only the Force Stop and Disable buttons are present.
We recommend you do not disable or uninstall this app. However, AASAservice is bloatware that causes issues like battery draining, so you can remove it too for better device performance. Removing it won't cause any issues with your device.
Below mentioned are the methods to uninstall AASAservice from your device:
1 – Uninstall AASAservice Using ADB
To do this method, you'll need a Windows PC.
Now follow the steps below:
Go to Settings > System > About phone.
Click on the Build number 7 times to activate Developer Options.
Go back to the main Settings and click on Developer Options.
Now enable USB debugging by tapping on it.
Download ADB on your Windows PC.
Extract the ZIP file into a folder.
Now open that folder.
Press and hold the shift button and then right-click in a blank area.
After that, click on "Open Powershell window here."
Once opened, enter the command- adb devices.
Connect your Android device to the PC using a USB data cable.
Enter the command- adb shell pm uninstall –user 0 com.samsung.aasaservice
After a few seconds, the app will be uninstalled from your device.
You can even disable this app using the above method just by replacing "uninstall" with "disable" in the second last step of the ADB command shown above.
2 – Uninstall AASA Service using System App Remover
First of all, you need to gain root access to your device to use this method. After gaining root access follow the steps below to uninstall the app.
Download and install the System App Remover application on your device.
Launch the app.
Search for AASAservice, and select the app by tapping on it.
After that, click on the Uninstall button to remove the app and delete its data.
Final Words
The Samsung AASA service is a built-in program app exclusive to Samsung devices. It functions to notify the user about the security policies of applications installed on their devices. Moreover, the application creates backup copies of your system settings and stores these backups on your Samsung Account.
The AASAservice is not a virus or spyware, but it can be considered bloatware because it has high CPU usage and drains your battery.
For any other doubts related to the post, comment us below!