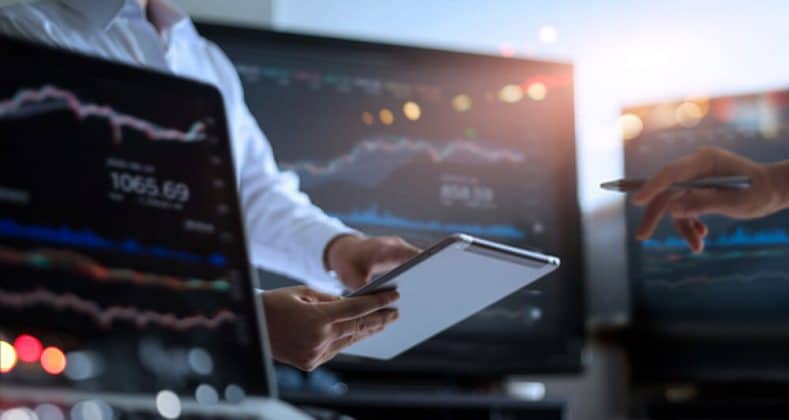 I
f you are reading this article, you surely want to invest but don't want to visit offices or use computers. There are many best investment apps where you can get a lot of information about money markets and will be able to make good decisions to invest.
Investment apps are very useful as they let you plan and manage your investment strategy anytime, anywhere- on the commute to work, during your lunch break, or from the comfort of your own home. These apps will help you to set up an investment account, deposit money, and buy and sell stocks.
To make your decision process super easy, you must install the best investment app on your smartphone. Here's the list of investing apps to achieve your financial goals.
Related Posts:
Best Investment Apps
Acorns is the best investing platform to save and invest every day. The app invests your spare change and makes saving fun and easy. You just need to link a credit card and checking account, and Acorns does the rest for you.
This micro-investing app allows you to round up your spending and invest it easily in a portfolio that makes sense for you. The Acorns Later feature lets users invest in a specially designed individual retirement account (IRA).
Another great service is Acorns Early which is for parents, guardians, and family members that allow them to set up a custodial account for a child at no added cost. In addition to this, interviews, news, and how-tos are available within the app to enhance your knowledge.
The extra money will be added to your Acorns account when you shop with Acorn's Found Money partner brands such as Airbnb, Blue Apron, Macy's, and Warby Parker.
2 – Fidelity
Fidelity is one of the best investment apps that allows you to invest for free. It offers a wide selection of tools, research, and resources coupled with easy order entry.
It is the cleanest and easiest to use the app. You will get quickly review news about your investments and interests with their customized Feed. Also, trade, manage your money, deposit checks, and pay bills in just a few taps.
The good news is most trades are now available commission-free and with no minimums, and if you own a Fidelity Visa credit card, your cashback is directly deposited into an account. You can also pay bills using your trading account or Fidelity's banking service. Fidelity account holders can purchase mutual funds and exchange-traded funds without paying a transaction fee or commission.
The support and knowledge of the Fidelity staff are great. With $0 account minimums and zero-expense-ratio index and mutual funds, this is one of the most affordable brokers.
3 – Robinhood
Robinhood, the best stock trading app to buy or sell stocks at market price, provides an entirely free way to invest.
With no commissions on stock, no account minimums, and an easy-to-use interface, this online stock brokerage is the best investing app, particularly for new investors.
Experienced investors should pair Robinhood with one or more free research tools. It will help them develop a more systematic approach to investing.
The app allows you to trade crypto (Bitcoin, Ethereum, and more. There is also a premium version, Robinhood Gold that you could buy if you want to take your investing to the next level.
Robinhood app will make you understand financial markets so you can invest in the stock market and buy funds, shares and options. Also, you can access real-time market data, read relevant news, and get notified about important events to manage your portfolio.
4 – Webull
Another free investing app with 0 commissions, 0 platform fees, no hidden fees and no account minimums is Webull. It offers real-time market data of Nasdaq, Dow Jones, S&P 500, Hang Seng, Nikkei, and also the thorough data of BSE, SENSEX, NSE, NIFTY 50.
Webull is specifically designed for technical traders and has a large amount of technical research for individuals looking to trade stocks.
The interface is user-friendly with customizable settings. With this app, one can track key global events from major media sources including Google Finance, Yahoo Finance, Bloomberg, Reuters, CNBC, MSN Money, Wall Street Journal, and more.
Many features that you normally see on larger platforms such as Margin trading, Extended-hours trading, Customer service, Ability to sell short, etc. are also available in this app.
5 – Stash
The next name in the list of best investment apps is Stash that isn't free but makes investing really easy. Stash offers three plans, starting at just $1/month, each designed with different tools to save, invest, and budget.
It costs $1 per month for a brokerage account plus access to Stash's online bank account and debit card, which includes a rewards program. For $3 a month, you get the brokerage and bank accounts, plus a retirement account — either a Roth or traditional IRA. For $9 a month, Stash offers all of the above, plus two custodial accounts for minors, a metal debit card, a turbocharged rewards program, and a monthly investment research report.
The minimum balance is $0, and because Stash offers fractional investing, you can buy portions of a company's stock or a fund share for a minimal amount.
With the Portfolio Builder, you'll be able to work toward an investment strategy that meets your goals and your values. The app comes with a wide variety of investment options that will allow you to find the perfect match.
6 – Wealthfront
Wealthfront uses technology to optimize your finances and take the work out of banking, investing, borrowing and planning. It's a Robo-advisor app that offers an all-in-one solution: earning interest on your cash, advice on how to manage your savings, as well as automated investment management.
Like many Robo-investing services, Wealthfront uses Modern Portfolio Theory (MPT) to create an automated asset allocation, taking into account your risk tolerance and financial needs.
You just need to link your financial accounts once. The app will calculate your current net worth and project what you'll have in the future, making updates automatically as your finances change. Low fees, free planning guides, and multiple tax perks make Wealthfront worth a look.
7 – Betterment
Betterment is a good investing app that manages and re-balances your portfolio. It's a great starting point for beginning investors and a useful platform for more experienced investors.
The app helps you figure out your investing goals like retirement or saving for college, and provide ongoing advice to help you reach them. Based upon your risk profile and account type (taxable vs. tax-deferred), the asset allocation is customized. You can automatically make deposits if your bank balance goes over a specified amount.
The app builds and manages your personalized investment portfolio of low-cost ETFs. Also, there's built-in financial guidance to help who is new to investing. This may even be useful for seasoned investors.
Final Words
So these are some of the best investment apps that offer the convenience of investing on-the-go. These apps can help beginners, and everyday investors get their toes wet in the stock market.
Out of these best stock apps which one you liked the most and why? Tell us in the comments section below.