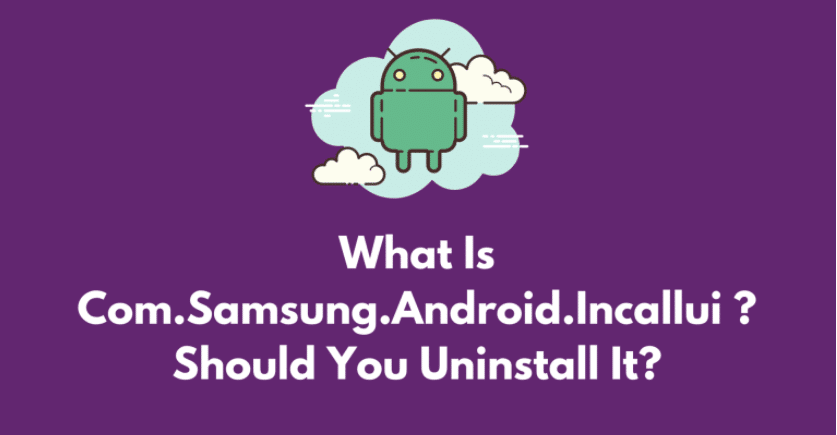 S
amsung is one of the biggest mobile manufacturing companies that offer the latest smartphones with advanced technology and design. Their mobile phone comes with built-in features that often run in the background, such as com.samsung.android.incallui or CQATest app.
In this article, we will discuss the Samsung android incallui, and share some useful information about its uses, why does it come pre-installed on your phone, and how to fix common issues related to this app.
Related Posts:
What is Com.Samsung.android.incallui?
com.android.incallui is a built-in Android app package that contains the User Interface (UI) data of your phone's Call dialer app. And com.samsung.android.incallui stands for "Samsung android in-call user interface". It contains the User interface of the call screen app in Samsung smartphones running on Android OS.
In simple words, the elements you see in your call screen are stored in the com.android.incallui app such as Disconnect Call button, Speaker button, Hold button, Record button, Keypad button, Mute button, Contacts button, Add Call button, Video Call button, etc.
This pre-installed application handles the display when you're in a call and every calling app requires the com.samsung.android.incallui system app for making calls. The use of incallUI is important. Without it, you can't use calling apps and your mobile phone would not be referred to as a smartphone.
Uses of com.samsung.android.incallui
Here are some of the features or uses of the Samsung android incallui app that we utilize daily:
Lets you receive a call
Identify who is calling
Make a call
Allows you to open other apps when you are on a call
conference or group calls
Lets you put a phone call on hold
Disconnecting the phone call
Allows integration with some apps like True caller
Call recording
Keeping the call at the silent
Turning the volume up or down
Disable the screen when you receive a call
Allows you to take a note when on a call
Send messages while on the phone
How Can I Access IncallUI?
Follow the steps given below to go to Incallui:
First of all, open the Settings option on your device.
Click on Apps.
Now tap on the three vertical dots in the upper right corner.
Click on the Show System Apps.
After that, look for com.android.incallui and click on it to access this system app.
How To Fix com.samsung.android.incallui Isn't Working?
Sometimes you will see the caller ID isn't working properly and shows the error "Unfortunately IncallUI has Stopped." This error message prevents users from using the dialer app to call a person and receive calls from others. If you find Samsung android incallui not working, follow the steps below to fix it:
Go to Settings.
Then open the Apps option.
After that, search for "incallUI" in the applications.
Click on it to access it.
Scroll to clear cache and tap on it.
If the problem still persists, you can force stop and then restart the device to correct the issue.
Can I Uninstall com.Samsung.android.incallui?
IncallUI is one of the crucial system apps that contains the User Interface(UI) elements of your phone's calling app. Without this application on your phone, you cannot make or receive any calls.
So, the answer to this question is simply no; you cannot uninstall the com android incallui service.
It's a pre-installed system app and if you will remove it you won't be able to make or receive calls on your Samsung device.
Does IncallUI cause Battery Draining?
The com.android.incallui system service runs continuously in the background, so it consumes your phone's system resources and drains the battery too. Also, when your phone is not used for calling or receiving any phone calls, it does not consume more system resources. But, your battery will drain faster if you use your device to make or receive a lot of phone calls.
Final Words
So that was all about com.samsung.android.incallui program on your Samsung device. This is an important service that contains the User Interface of your phone's call screen dialer. You should not try to delete or uninstall it from your device because after doing this, you cannot make or receive phone calls.