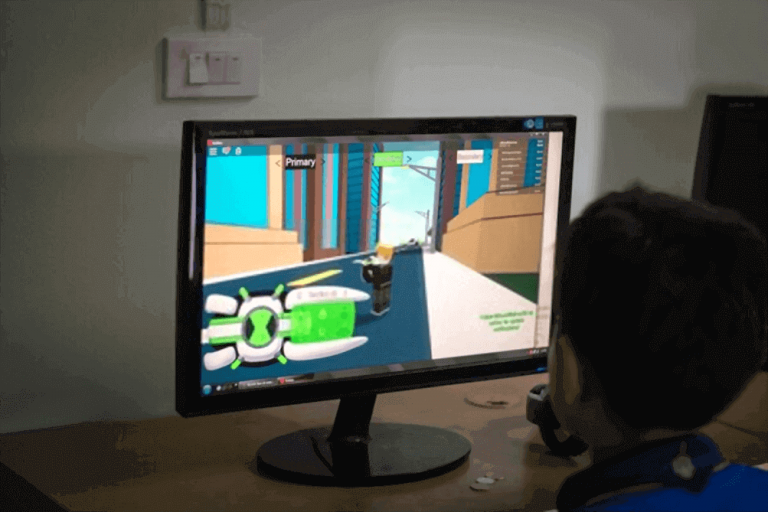 V
ery soon, we will share a list of Games like Roblox, but before that, let's know about ROBLOX. This game comes under the MMO (Massively Multiplayer Online game) category of video games where the player can interact, befriend, and play with fellow gamers all around the globe.
It has been serving players all the necessary tools to create their own game within a game and share it with the community since 2005. ROBLOX has numerous outstanding gaming features, which make it one of the best MMO games.
This game can help players sharpen their memory, enhance coordination, develop spatial skills, and more.
Now let's talk about games similar to Roblox that are equally fun and more exciting to play.
Related Articles:
Top Games like Roblox You Should Play Now
Blocksworld is one of the most popular among this list of games like Roblox. This game is all about your creativity. You are allowed to build all kinds of items, from cars to boats, trucks, jets, robots, and planes. Not only this, but you also have to program them so that they can function with specific commands.
In this game, you use different tools that will enhance your abilities of building and creativity.
The game offers more realistic and advanced graphics. So use your imagination and craft various types of items.
Our next pick is Terasology because Roblox and Terasology have a lot of things in common.
In the game, you can break and collect blocks to build structures, and so on. You are allowed to explore, gather resources, fight against your enemies, team up with your friends.
This game looks a lot like Minecraft and has things like tech trees, advanced crafting that will add more to your Minecraft-like experience.
Terasology is an open-source game, and developers are still adding new features. And it is entirely free of charge.
Another name in the list of games similar to Roblox is Blockland, an MMO, voxel-based sandbox video game set in a world made of Lego building blocks.
There are no quests, no dungeons, no crafting, and no survival aspects. You are free to create whatever you want, wherever you want, and with whatever you want!
This game has no objectives, so you can sit all day doing nothing, or make the game-play more engaging with all the action-packed things the game offers.
Utilize your creativity in the most imaginative way possible and make the structural design of your choice.
Trove is a well-reputed MMO Sandbox video game that offers Arena-based gameplay.
The game lets you select a player character from several classes, select skills, and go to the Arena called Hub to reach to other worlds to fight against the opponents.
You can hang out with like-minded people, make new friends, and enjoy traversing through various environments together.
In addition to this, you can raid and loot resources, build structures, defensive and offensive buildings, and enjoy living your dream life in Sandbox world. Give it a try; I'm sure you'll start loving this game.
If you want to play a world-building game with a twist then you must try Block N Load, one of the most engaging games like Roblox.
In this game, you will build your structures, but you will use it to battle against your enemies.
You will have a variety of weapons such as guns, grenades, rocket, deadly traps, and more which you can use against the enemies and other players. Also, you can team-up with online players and play the game together.
This game takes you to the world of battle where you can build, construct, destroy, or shoot enemies to save the world.
Use your creativity and develop block-style games in various genres and share it with other users to play. KoGaMa is very much like Roblox where you get a chance to show off your best creative and development skills by building different block structures and create puzzles to be solved by other online players.
Unlike Roblox, there is no limit as to how many games you can create in Kogama.
Build your own games using the voxels and functions, such as time triggers, checkpoints, smoke, fire, etc. You can even invite your friends to build a game together.
Minetest is another game whose concept is similar to Roblox. It's an open-source license that allows you to play or build various block-style games for free.
The game features enormous maps that are 62000×62000 blocks in the area and allow players to dig up to 31000 blocks down or build 31000 blocks up, to create their own maps. You will get plenty of raw resources and craft stuff as well.
You can choose from multiple games, survive in a harsh environment, build creatively, or fight other players.
The purpose of this game is building or crafting a city or urban life.
In Voxel Turf game, the entire world is destructable, and unlike many other voxel games, this one offers you a wide variety of different shapes of blocks to use, allowing you to build ramps and pitched roofs and ultimately more realistic looking buildings.
You are allowed to build or destroy your city, and you can either create good citizens or bad citizens. In short, you are the planner and builder of the city.
As the name says it all, in Cubic Castles, you can create your castle and world with cube pieces that you can find throughout the environment.
It is one of the popular games like Roblox which focuses on Social Networking, Exploration, Crafting, and Building elements.
In the game, the players take inspiration from each other's work and visit each other's locations to build better-looking castles.
So the game is all about gathering available resources into craft blocks and then start building several structures.
There is no doubt in saying that Minecraft is one of the biggest names in the list of world-building games. It is available on almost any platform, such as mobile, consoles, and desktop.
With this game, players can create beautiful bases, construct buildings by using unlimited resources.
Minecraft lets users build their world using blocks and allows their characters to explore the world that they have made.
It's a 3D sandbox game with no many restrictions, and users are allowed to do whatever they want to. Its several modes have Survival mode, adventure mode, creative mode, and spectator mode.
Based on the earlier version of Minecraft, TrueCraft is another best game like Roblox.
When you play this game you will relive the look and feel of the earlier version of Minecraft that is simple and fun to play. There are no additions and complexities and that's the reason which makes it one of the most popular block-building games today.
Last on the list is Lego Worlds, a sandbox-style game that allows you to create your world by using online Lego items.
From creation to exploration, this game allows you to dive deep and enjoy hours of amazing game time. You can enjoy this Lego-building video game on PS4, Xbox One, Nintendo Switch, and PC.
During the gameplay, you will face lots of quests that you will have to complete, there are lots of characters and vehicles, and of course, lots of bricks to use in your game.
Final Words
I hope your search will end here if you are genuinely looking for games like Roblox. You can try one of these games. All these games give you endless ways to express your creativity and build your own world.
Get ready for all sorts of fun and craziness. Do tell us what's your favourite game like Roblox in the comments below.