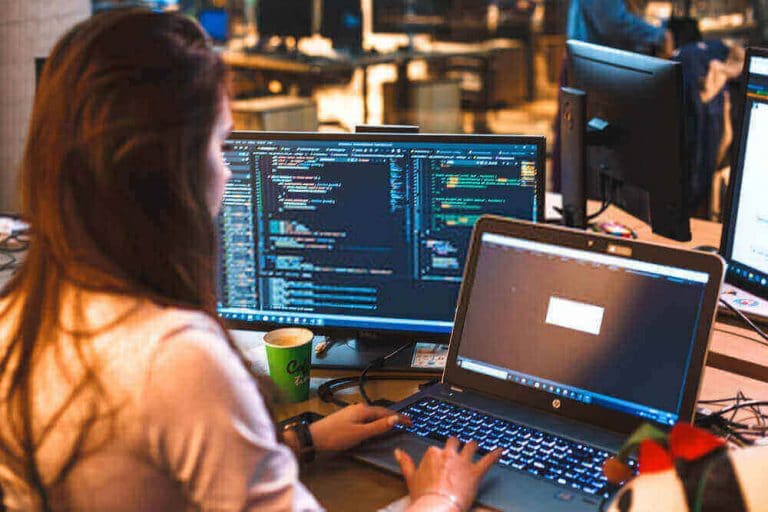 W
hy do you need a wireless monitor? The very first reason is to improve the quality of your work. Also, to get rid of wires, a user always prefers wireless signals to bridge a connection with the computer/laptop to display graphics, video, or any other computer-generated data.
Today we will discuss the wireless computer monitor that will make your work easier. All you need to do is connect your laptop or computer to the wireless monitor, and you start with your work within a second.
Using modern technologies like Bluetooth, infrared, and Wi-Fi, you can interact with another through signals that run through airwaves. To keep today's requirement in mind, we came up with the list of the best wireless computer monitor.
Related Posts:
8 Best Wireless Monitor
You can easily connect your smartphone or laptop to the Dell S2317HWi without plugging and unplugging multiple cables as it offers a wireless connection.
This wireless monitor uses a mix of 802.11ac, Bluetooth, and Miracast wireless technologies to deliver video and audio without cables from multiple devices.
S2317HWi offers multitasking options like you can have the monitor to show your laptop's screen and display a window of your phone or tablet at the same time without connecting a single cable. Also, you can charge your mobile device while it's wirelessly connected to the display.
Its 23-inches crystal-clear HD screen, built-in 3W speakers, and additional connection jacks for VGA, HDMI, and audio provide great entertainment options to the users.
An easy plug 'n play set up of this transmitter free its users from the cables and wires. There's no need to install expensive, inconvenient cables for mirroring your screen from the laptop.
The signal range of their wireless display receiver is over 100 feet, and that powerful long-range signal transmits through walls, floors, & ceilings. Using it, a wired monitor can become wireless for convenient setup. The device transmits 1080p 60Hz video signal with no compression or latency.
Forget those lengthy HDMI cords and try this little peripheral that allows you to transmit video or gameplay from your computer or console to your television/projector with fantastic video and audio quality.
Another wireless computer monitor is the ASUS MB168B. It is an ultra-light and thin portable monitor, which you can carry along with you wherever you go.
This USB powered monitor doesn't require additional cables, power adapters or power source. The display is powered using a USB 3.0 port and is also compatible with a USB 2.0 port. It is very portable and easy to set up.
ASUS MB168B is equipped with a 15.6-inch high-definition display with a resolution of 1366×768 pixels, and an aspect ratio of 16:9.
Using the Actiontec ScreenBeam Mini2, you can display content from your smartphone, tablet, or laptop wirelessly to a TV or monitor without any WiFi network and internet connectivity.
It has its own dedicated wireless connection that helps you to connect your computer directly to the receiver attached to any monitor without the need of setting up Wi-Fi connections.
This wireless display adapter plugs into an open HDMI port on a display/TV and receives streaming video from various devices. ScreenBeam Mini2 supports up to full 1080p at 30 frames per second HD video and two-channel stereo.
On one side of this adapter, there's a reset switch and a micro USB port to power the adapter. Also, installing the ScreenBeam Mini2 adapter is simple if you have a TV or monitor that has an available full-sized HDMI port.
This Wireless Display Adapter from Microsoft lets you wirelessly share what's on your tablet, laptop, or smartphone on an HDTV or monitor.
Microsoft P3Q-00001 has no buttons, nothing to press, and the setup is very straightforward. Using this wireless display receiver, you can stream movies, view personal photos, or display a presentation on a larger screen.
You don't need to put extra effort. Just plug the USB and HDMI from the Wireless Display Adapter into your HDTV or monitor, connect, then enjoy. You are free to mirror everything to your wireless monitor, including apps, videos, images, documents, and many more.
Another solution to wirelessly broadcast your device's screen is NETGEAR PTV3000. It is designed to be able to stream your media from compatible devices. After that, you can broadcast them in HD on any device with an HDMI-in port and without the messy cables.
PTV3000 uses Intel WiDi and Miracast technology that's built into your device to wirelessly transmit video. Using it is quite easy. You only need to connect the mini USB cable at the back of the device and use the charger to connect it to the power supply. Then using an HDMI cable, connect the Netgear's HDMI port to that of the TV. You are all set to stream both Video and Audio.
Final Words
On the given list of the best wireless computer monitor, there is only a wireless monitor from Dell. It supports wireless connectivity to devices via its internal Wi-Fi system. Other are just wireless display receivers and adapters that also work fine.
Let us know which one you liked the most and why.