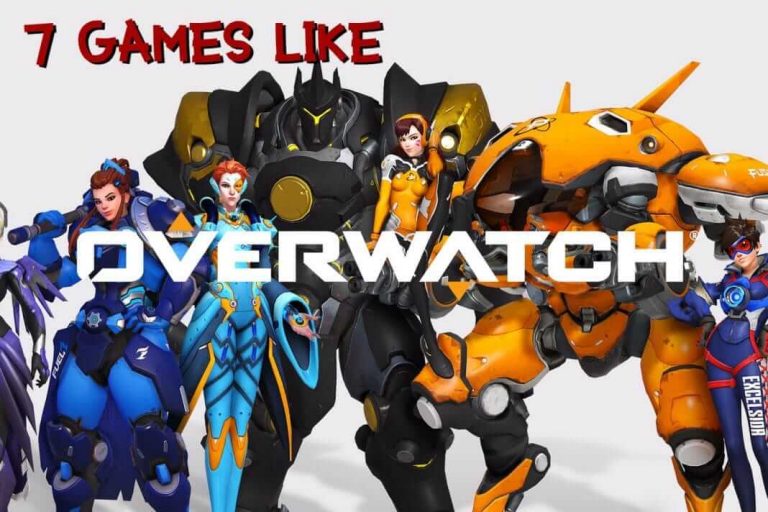 D
eveloped and published by Blizzard Entertainment, Overwatch is known as a 'hero-based shooter' game. This game has gained significant fame over the world, so it is impossible to talk about multiplayer games without mentioning Overwatch.
I know you are here for games like Overwatch. Might be you're tired of playing the same game over and over again or want to try something different. Well, you don't have to worry because you will get the list of games similar to Overwatch very soon in this post.
Here we bring top games like Overwatch which doesn't require new skills to play. If you know how to play Overwatch, then all these games going to be very easy.
Related Article – How to Fix Overwatch Not Launching Issue
Keep the excitement level up and read on to know the names of other similar games.
You may like this:
Top 10 Games like Overwatch
BRINK, one of the best free games like Overwatch, is all about factions. You'll have to choose from four character classes like Soldier, Medic, Engineer, and Operative, and the members of each class have a unique set of skills.
Brink is a first-person shooter video game by Bethesda Softworks which focuses on parkour-style movement. The game supports up to 16 players. Players have to play cooperatively or competitively or go against AI bots.
The high-quality graphics and incredible physics make this first-person shooter favourite among gamers.
Brink is available on Windows, PS3, and Xbox One.
Another free-to-play multiplayer shooter game similar to Overwatch is Paladins. With little differences, the gameplay of Paladins is almost like Overwatch. Paladins focuses more on the customization of each character using a "Card" feature. Also, it caters to those who prefer running around and fighting on larger maps while Overwatch keeps the maps short.
The game comes with lots of attracting things which will add more excitement to your game. In addition to that, this game entertains gamers with a wide range of different characters, like dragons, mech-riding goblins, elves and even human beings. They're all equipped with a variety of different weapons that will spice up the gameplay.
You can play Paladins on PC, PS4 and Xbox One.
If you are looking for free games like Overwatch, then you must try Team Fortress 2. The game has different characters to choose from, each with distinct abilities that will help you win the game.
The gameplay and characters both resembles Overwatch. Sniper from Team Fortress 2 is similar to Hanzo from Overwatch while Scout from TF2 will remind you of Tracer from Overwatch.
It is one of the perfect shooting games for players who want to play in a team. TF2 is a fun game to play which is compatible with PC, Xbox 360 and PS3.
A real rival to Overwatch, Backlight is a free to play First-person shooter game. There are various maps and modes available in the game to play. This action-packed game has modes that are available to play are Deathmatch, Team Deathmatch, Capture the Flag, Domination, King of the Hill, and Kill Confirmed.
The game uses futuristic tech, and it also has a unique Hyper Reality Visor that allows you to look through walls when using it.
The best thing about this game is it has over 1,000 different gun combinations as you can do a lot of modifications like adding scopes, camo, magazines and so on. The game comes with unique tools and features that distinguish it from other FPS in the genre.
Play Blacklight: Retribution on PC and PlayStation 4 without spending money.
Another alternative to Overwatch is Warframe which focuses on gathering resources and crafting guns and armour. The more you do so, the better you are at killing things.
The developers of this game also put in a lot of effort into making the story content great as well with some of the best writing you will ever find in video games. The game is all about making your character super defensive or even offensive, depending on the gear and abilities you will use.
Although, WarFrame doesn't have as sharp visuals as Overwatch, but offers you completely unique playing experience.
WarFrame is available on Xbox One, PS4 and PC.
Dirty Bomb is similar to Overwatch in terms of style and gameplay. In this game, you're either playing as the Central Disaster Authority team or the Jackal team which are the criminals.
Complete objectives and create a strong team. The characters are called Mercs, and each one has its unique sets of powers and abilities. The game is focused on teamwork and communication. Dirty Bomb has three modes-Objectives, Execution, Stopwatch. The player can level up and unlock new items from Experience and credits.
You can play this game on Microsoft Windows only.
Next name is Battleborn, a game that focuses on teamwork and team play similar to Overwatch.
In this game, players are divided into 5-5 teams in which they have to complete to win across four different multiplayer modes: Capture, Meltdown, Incursion, and Face-off.
The story is very important in Battleborn. It has eight campaign missions through which the story is revealed, and you can play them offline in single-player or online in cooperative multiplayer mode.
The character skills and the weapon effects put gameplay on the next level. You can try a free version of the Battleborn and then purchase a complete game.
Platform supported- Playstation 4, Xbox One and PC.
If you are looking for games similar to Overwatch in many ways, Tribes Ascend could be the right choice for you. This game is pretty much an all-out war game on a vast map. You even have vehicles like tanks and even jetpacks that you can use in battle.
Set in the futuristic world, Tribes Ascend offers fast-paced action and shooting.
The game is specifically made for the sci-fi war mission lovers. There are many interesting characters and weapon skills available in the gameplay.
It is a PC game and is available for free.
Another popular game in our list of games like Overwatch is PlanetSide 2. It has many strong servers that arrange huge battles.
This multiplayer game takes you straight to the battlefield where you are a part of one of the three armies or the territories. You get to drive tanks, aircraft, and ground transport vehicles in order to help your forces.
Planetside 2 is also one of the largest multiplayer online battle games, with thousands of players fighting in the battlefield.
Block N Load is a kind of battle game where you have a team of 5 players, and you go against another five players.
Players can choose a class out of currently six available classes with different abilities. Then you build your defences and traps such as big bombs, turrets and landmines. After the building phase, teams can attack each other to destroy the cube placed in the base of the hostile team.
The game is free to play with some premium content. You can enjoy Block N Load on PC.
Final Words
If you are really bored of playing Overwatch then these games like Overwatch will offer you similar gaming experience or might be more.
Choose any one from them and start your shooting journey along with your teammates. Also, mention your favourite game similar to Overwatch in the comments below.