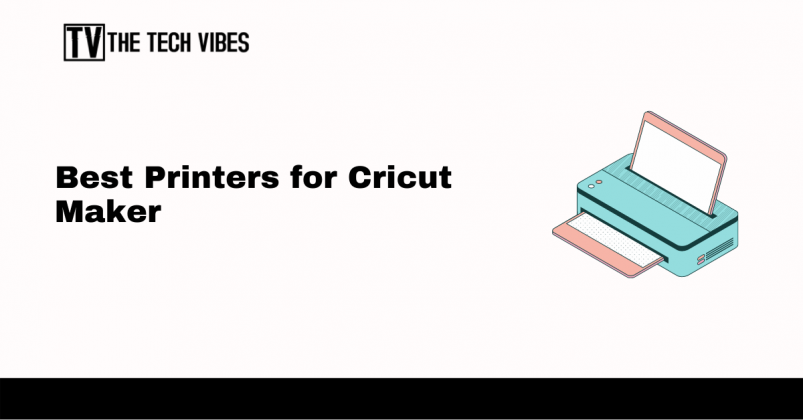 C
ricut machine helps you turn your intuitive ideas into reality. It comes with design software called "Design Space" where you can upload and edit any photo, sticker, or design and then draw and cut on any compatible paper, vinyl, or cardboard. Now, what's the use of printers here and why do you need the best printer for Cricut?
The printers for Cricut maker projects will give you crispy prints and will work easily with your computer. They help you replace conventional draw and cut functions with print and cut. Cricut printers can save time by exponentially increasing productivity.
In this post, we have listed the best printer for Cricut maker projects. So read the whole article and choose the one that fulfills your requirements and is under your budget.
Related Post: 7 Best GIF Overlay Websites To Add Images On GIFs
Best Printers for Cricut Maker
1 – Canon PIXMA TR4520
Canon PIXMA TR4520 is one of the best printers for Cricut maker projects because of its affordable price and high performance.
You would already have heard of Canon, a renowned brand in the world of printer makers. The PIXMA TR4520 is the ideal tool for crafting. It is an all-in-one photo printer that allows users to copy, scan, print, and fax.
The device comes with ADF compatibility which means it can automatically pick up multiple paper sheets and feed them one page at a time into the device.
In addition, you can easily link your smartphone to your printer as it supports wireless connectivity. The printer is easy-to-use and offers features like Air Print, built-in ADF, auto power on and off, and Mopria Print Service.
Above all, it ensures high quality and detailed printouts.
2 – The Epson Eco Tank ET-2720
Another one is The Epson Eco Tank ET-2720, one of the lightest, most compact, and most cost-effective bulk ink model printer for cricut maker projects.
The printer produces high-quality prints and is compatible with an array of operating systems including Windows 10, 8, 8.1, 7, and Mac OS X 10.6, 10.12×10.
The EcoTank ET-2720 comes packed with enough ink to print 4,500 pages in black as well as 7,500 pages in color.
Overall, the device features genuine Epson print quality, a high-resolution flatbed scanner, and a convenient color display – making it the ideal choice for a cricut maker.
3 – The HP Office Jet Pro 8035
The HP Office Jet Pro 8035 is the best printer for cricut as it is able to print at a rate of 20 pages per minute. In addition, the printer comes with scan-to USB and fax capabilities despite being 14% smaller.
When it comes to security, the printer is equipped with built-in encryption, Wi-Fi security, document safety, and password protection. This ensures proper multi-layered security of your digital information.
Moreover, the device comes with a code to redeem 8 months of Instant Ink based on printing 100 pages/month. You can even print remotely using the HP Smart app. This lets you access your printer and scanner, monitor ink levels, and print, copy, and scan on the go.
4 – Canon PIXMA MG3620
Canon PIXMA MG3620 is our next pick on the list of best printer for cricut maker projects. The device is compact enough which means it does not take up a lot of space on your desk.
This printer's software limits the maximum resolution to 600 DPI, which is adjustable. You can also raise the DPI within Canon's software to achieve a higher resolution.
Additionally, the printer has an amazing picture printing quality. You can easily print from your iPhone, iPad, Android or tablet. It comes with powerful printing options including Airprint, Google Cloud Print, NFC, Mopria, and Canon Print.
5 – HP Office Jet Pro 8720
HP OfficeJet Pro 8720 is another name on the list Cricut printers. It offers a strong blend of features, external traits, flexibility, and power in one package. The printer comes with a quick print speed, supports many paper sizes, and is able to perform various tasks.
Using it, you can also scan, fax, do wireless printing, and copy. It comes with both the ePrint app and Instant Ink. Other features include 2-sided duplex printing and scanning, color touchscreen, auto document feeder, and more.
Moreover, the printer is designed to print up to 2,000 pages per month.
6 – Epson SureColor P400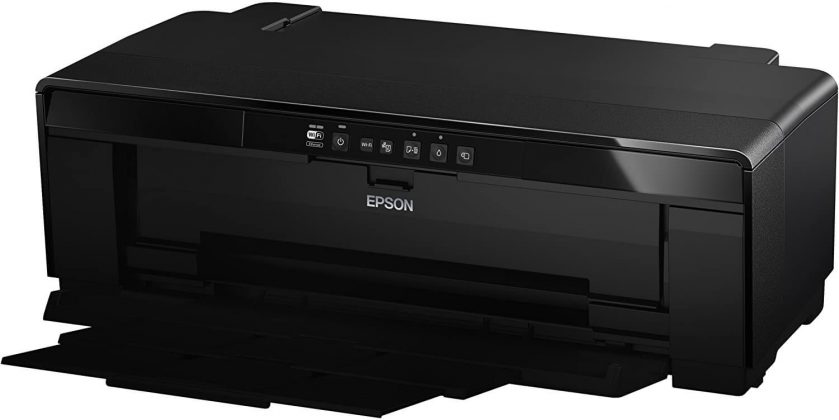 Epson SureColor P400 is an incredible cricut printer that offers features such as wireless internet support, wide format, seven color support, ethernet port, and a variety of printing options.
It is compatible with several operating systems: Windows 10, 8.1, 8, and 75, Apple OS X 10.11.x, 10.10.x, 10.9.x, 10.8.x, 10.7.x5
This printer can print up to 13-inches wide, making it perfect for Cricut. Also, it can handle a ton of different paper types ranging from photo to sticker to vinyl sheets.
Epson SureColor P400 can produce high-quality photo prints with excellent color accuracy and saturation.
7 – Canon TS6420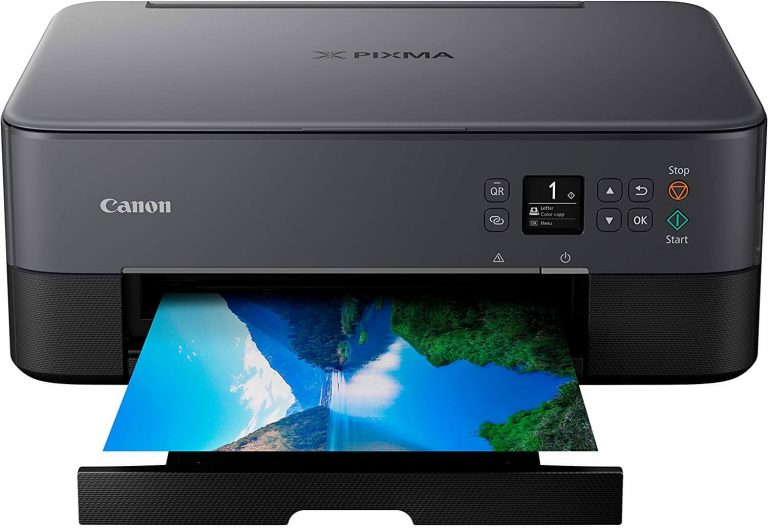 Canon TS6420 is a straightforward and best printer for Cricut as it can handle a wide amount of page sizes. The wireless connectivity lets you print from any room from any device such as laptops, tablets, and smartphones, thanks to mobile connectivity support like the standard Canon PRINT app and Apple AirPrint that comes standard.
Equipped with square photo printing, borderless photo print, and a 13 ppr print speed, the printer is easy to set up, simple to use, and provides you with various options.
The cost-per-print of color documents is very low, helping keep you within budget.
8 – HP ENVY 5055 Printer
HP ENVY 5055 printer for cricut comes with Bluetooth, Smart, improved Wi-Fi connectivity, faster print speeds, and more. It can print, scan, and copy borderless. Generate high-quality photos and documents with crisp, sharp text using this versatile all-in-1 printer.
Using the HP Smart app, you can easily set up your wireless printer, scan documents with your camera, and print from social media or the cloud, such as iCloud, Google Drive, and Dropbox.
Moreover, the printer excellently offers instant ink that makes it ideal for printing hundreds of pictures. The printer is good at printing respectable graphics and legible texts.
This all-in-one printer works on paper sizes that measure 4 x 6 inches, 5 x 7 inches, 8 x 10 inches, and size 10 envelopes.
9 – HP DeskJet 3755 Compact All-in-One Wireless Printer
If you are looking for an affordable and good printer for cricut maker, HP DeskJet 3755 is the right choice for you. It is one of the smallest printers in the world with all-in-one features.
Main features include copy, scan, wireless printing, cloud print enabled, optional HP high-yield cartridges, AirPrint and Instant Ink. This printer can print different sizes of photo paper from 3×5 inches to 8.5×14 inches including letter, legal, 4×6 inches, 5×7 inches, 8×10 inches & No 10 envelopes.
The printer is compatible with desktop, laptop, and mobile phones. You can connect this with a cable and Bluetooth device to print instantly.
10 – HP ENVY Photo 7855
HP ENVY Photo 7855 prints high-quality photos and that's why it's an ideal choice for you if you are looking for the best Cricut printers. The printer can generate colorful flyers, documents, and other pieces of art in one go. You will get the same photo quality that you have seen on your devices.
Features of this Cricut printer include print, scan, copy, fax, borderless & wireless printing, SD card slot, auto document feeder, HP Instant Ink eligible.
Plus, it supports a wide range of paper sizes including letter, legal, 4×5 in, 4×6 in, 5×7 in, 8×10 in, No 10 envelopes.
When it comes to connectivity, you can connect the printer with a wifi device. The Bluetooth device of this printer helps connect with laptops or cell phones. Also, you can connect HP ENVY Photo 7855 with a cable and USB port of a computer.
Final Words
A lot of creativity and skills are required for crafting and cricuting. So these are some of the best printers for Cricut that aren't just stand-alone machines, but also help bring your designs to life. All these printers can print, scan and copy. Also, they are wireless and support mobile printing.