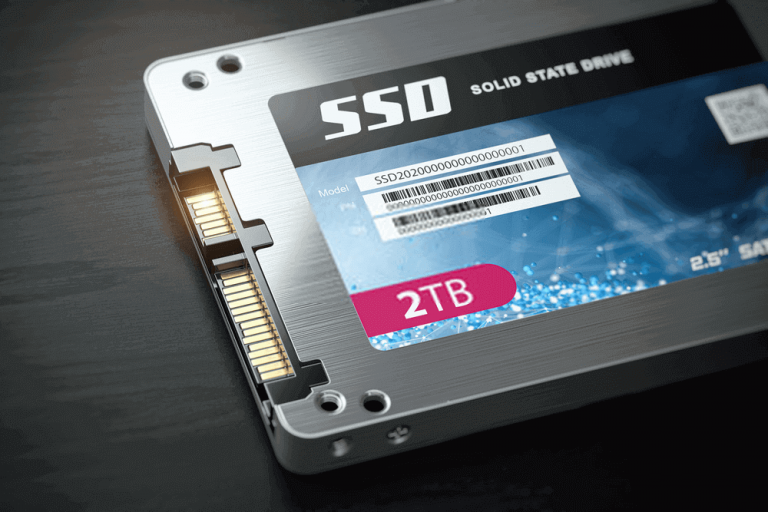 W
e are about to mention top 8
SSD for MacBook Pro
and other devices, their unique features, and advantages that could change the entire experience of your home computing.
SSD drives, the bleeding edge storage technology of the '90s had changed the entire market of laptops; in fact, the whole era of personal computing. In 1980 flash-based memory was invented by the Japanese tech giant Toshiba.
Later on, SanDisk has brought us a 20MB SSD drive, the ancestor of modern-day SSD's. The aftermath, the entire fraternity of home computing adopted this modern and more seamless technology. Thus, a new epoch of advanced home computing started.
However, after the introduction of SSDs at home or personal computing, the external hard drives were also being replaced with the cutting edge flash technology. Thus, a new era of external hard drive started from this time, and subsequently, all the tech giants plunged into this market to seek the maximum profit from this obscure market.
Top 8 SSD for Macbook Pro in 2020
Beneath, we have named eight most popular and best SSD drives for your MacBook Pro.
Without any doubt, this product is one of the best among all the SSDs available in the market. The Samsung SSD T5 is also an 'Amazon's choice' because of the reputation and craze among personal computer users.
This product of Samsung has three different size variants alongside four vogue colour variant. SSD T5 also offers you a speed of up to 540 MB/s and sleek, durable metal design.
The Samsung T5 has a type C to C and type A to A connection capability. However, this product comes with a warranty of three years only. Decidedly, this product is extremely recommended for all the content creators.
However, for graphical content creators, this product is a must-have because of the seamless performance and mobility of this beautiful device. With all the blazing features and functionalities this product could be a tough contender of 'The best SSD for MacBook Pro' in 2020.
Glyph's Black-box Plus is protected by a rugged metallic case and a rubber cover to reduce the chances of getting damaged even if it falls from height. This product also comes with three different size variants to satisfy your need as per the budget and requirement.
The USB C port of this drive supports 2nd Generation USB 3.1 along with additional compatibility with USB 3.0/ 2.0. Likewise, other industry-standard products this product also offers you up to a top transfer speed of 560 MB/s. This SSD drive could be a reliable companion for you while you are away and especially if you travel frequently.
The obscure SSD drive of Juanwe X-1 Pro perhaps of the most underrated product of this time. This product offers you a sleek and compact design along with all the common features and functionalities. The reading speed of this product can touch up to a speed of 550 MB/s and the writing speed up to 510 MB/s.
Additionally, this SSD drive of Juanwe offers its customers five different size variants. This SSD also could be attached to your iPhone using the Type c port and cable of this. The duo of power and portability of this device is unique and makes this the best buy for every kind of computer users.
However, the manufacturer only provides 24 months of warranty duration from the date of billing.
If you are looking for an SSD hard drive for MacBook Pro along with a brand name, then this might be your cup of tea.
 This time the reputed American hard drive manufacturer itself built an SSD Drive for all the MacBook Pro users with some uber-cool features and functionalities. And guess what? The product of WD My Passport has successfully achieved a position in Amazon's Choice.
This gorgeous SSD comes with a Type C and a 2nd Generation USB 3.1 port alongside USB 3.0, USB 2.0 and USB A compatibility. WD has also provided an automatic backup option with this hard drive to optimise the data security feature.
However, the major attraction is the 540 MB per second blazing fast transfer speed of this SSD, which could finish even a plethora of data transfer within a second. From 256GB to 2TB, the Western Digital offers four different size variants for this model.
SanDisk has revolutionised the entire market of SSDs with its captivating explicit outer representation. This product by SanDisk is one of the highest-selling SSDs in the United States in the last few years.
However, the company has also provided some ravishing cutting-edge feature like a transferring speed up to 550 MB per second alongside, shock resistance, IP55 dust and water-resistant design, and so on so forth.
This SSD is also Type C port enabled device which could provide up to a speed of 550 Mb/s. However, SanDisk has a different variant of this product which has speed up to 1050 Mb per second.
The brand offers three years of the domestic warranty period with this SSD drive. The speed and other technical features of this product make this a class apart and one of the best SSD drive for MacBook Pro in 2020.
Likewise, Seagate is another pioneer in the global hard drive market. And, this time, this tech giant has brought us a powerful 1TB SSD drive to meet the requirements of the passionate and advanced community of personal computer users. This drive is capable of delivering a speed up to 540 MB/s alongside Type C connectivity.
The main attraction of this product of Seagate is that it comes with free membership of Adobe Creative Cloud Photography.
However, this offer is valid only up to two months. The Seagate also provided a three years limited time warranty. This product could be very efficient for the professional photographer or video content Mac editors.
Lacie Mobile also tried to attract the photographer's community towards this 1 TB SSD of them.
This product could be one of the best MacBook Pro SSD of 2020 but, still, now it's one of the most underrated products of the market despite having all the industry-standard features and functionalities. This SSD comes with Type C port, including all the legacy support, which offers 540 MB/s seamless, zero-latency transferring rates.
Additionally, the software is also being provided by the manufacturer to take the hassle-free automatic and manual backup. Furthermore, the manufacturer provides three years of data recovery service along with a domestic warranty service of the same duration.
Last but not the least the flashing 1050 MB per second transfer speed capable SSD of Crucial is doubtlessly one of the best among all the blazing SSDs available in the market.
This product is available in two different size variants and works with Mac, Windows, Android, PS, XBOX, and so on so forth. The manufacturer claims that this product is drop-proof up to 7.5 feet alongside shock and vibration resistance.
The Crucial 1TB X8 is one of the most rugged hard drives and powered by Micron, the pioneer of flash storage technology of the modern world. However, after attributing a ton of features, the company has successfully designed and developed an engaging outfit for this device which has undoubtedly helped to enhance the craze of this product among consumers.
After considering all the features of this SSD, we might say that this product is the best SSD for MacBook Pro, perhaps for the same reason, the Amazon has also enlisted this SSD in their 'Amazon's Choice' category.
Conclusion
Overall these are the best SSD for Macbook Pro that you can go for right now. Each of them is tested and handpicked just for you. If you have a brand preference, going for the Samsung one will be a great choice.
Hope this is helpful